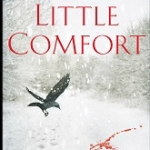 Edwin Hill, author of the 2018 mystery, Little Comfort, will be speaking about his book.
This presentation will take place prior to the monthly meeting of the Mystery Book Club, but is open to the public.  Hill will speak first, followed by the book club's discussion. All are welcome!
"In a brilliantly twisted debut set among Boston's elite, Edwin Hill introduces unforgettable sleuth Hester Thursby—and a missing persons case that uncovers a trail of vicious murder . . ." (Amazon)
"Fast-paced and riveting . . . takes off from the opening pages and never lets up. Don't miss this can't-put-down debut." (Carla Neggers, New York Times bestselling author)
Edwin Hill has written for the LA Review of Books, The Life Sentence, Publishers Weekly, and Ellery Queen Mystery Magazine. He is the vice president and editorial director for Bedford/St. Martin's, a division of Macmillan.