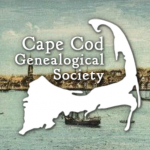 David Martin, chairman of the Education Committee of the Cape Cod Genealogical Society, will conduct an online workshop for anyone interested in getting started on their own genealogical research.
A second class on Immigration and Migration will take place on Wed., October 28, while a third class on DNA research will be held on Wed., Nov. 18.
It's suggested (but NOT required) that you attend all three workshops.
Seats are limited and you must register; call the Library at 508/946-2470 or email Reference Librarian Libby Fox at lfox@sailsinc.org. You'll receive additional information and a link for the Zoom sessions a few days prior to each class.