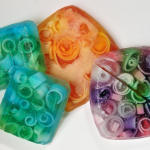 Join us for a Curly Rainbow Soap-Making Workshop on Thursday, July 20 from 2-3:00 p.m.  Each participant will make their own fun and quirky swirl soap using a glycerin based soap, colorful soap curls, color, cosmetic glitter and a variety of scents. 
Artist Garine Arakelian from Kulina Folk Art Creative Workshops will discuss the process of making cold process soap, blending of essential oils and the role of exfoliants in soap making. There is no lye exposure since the process does not involve traditional soap making techniques.  Once the concoction has cooled slightly, we will add the glitter, colors, essential oil (optional) and embed the soap curls. At the end of the workshop each participant will take their handmade creation home, it can be removed from the mold the following day and used right away. Soap is approximately 5 oz. with overall measurements of 4" x 4" x 3/4".
The melted soap is hot and by registering children under 18 years old, for this event, indicates that the parent/guardian acknowledges the possibility of safety concerns to child attending the workshop.  Per the instructor, the program starts promptly--no admission after instruction is given so that all participants are aware of safety concerns in handling hot materials.
Registration is required as space is limited.  Please call the Library at 508-946-2470 or email Teen Librarian Christine Dargelis at cdargeli@sailsinc.org to sign up.