Miss Amanda's Monday Musings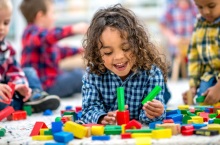 Every Monday Miss Amanda will post articles of interest, resources for learning at home, virtual meet-ups and book-related fun and challenges. 
This week:  Print out this Flag coloring page and place it in your window to show support for our veterans and troops.  
Tuesday Lego Challenges
Each week brings a new challenge.  Email your photos to ameyer@sailsinc.org and your work may be featured on our website and/or Facebook page!
This week:   Lego Challenge- Garden escape!  Create a Lego garden oasis.  What would it include?  A hammock?  Giant flowers?  A gate? Fruits and vegetables?  Send pictures to ameyer@sailsinc.org or post on Facebook with a description.
Storytimes at 1 p.m. on Wednesdays
Facebook live or pre-recorded stories. 
This week: Join Ms. Amanda for a Facebook Live storytime at 1 p.m.  We will read Tops and Bottoms by Janet Stevens and sing some garden themed songs.  Want a sneak peek about summer reading?  Tune in for details!
Tech with Tiny Tots on Thursdays
Information for families with babies and toddlers, story time rhymes and things to keep littles happy at home.
This week: Tiny Tots Support Group is back.  If you have babies and/or toddlers at home, this program is for you.  Join every Thursday until June 18th at noon for stories, songs, and more.  Share experiences and support each other.  All participants will be muted during the storytime.  Hungry, tired, and fussy kids are all welcome.  Register here.
Friday Fun
 Miss Lori will post puzzles, challenges and other fun things on the library's Facebook page.  Check out the puzzle PDF below.  Print and enjoy!