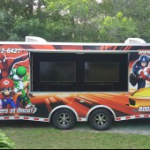 Bring your kids and your friends and reserve a 45-minute gaming slot to play your favorite video games on one of seven indoor and outdoor huge hi-def TVs with cool lighting and sound on Cape Cod's luxury gaming truck!  Each screen can support four players at once. Choose games to play on the Wii, Wii U, Xbox 360, Xbox One and PS4.
The Lions will have their food truck in our parking lot, and there will be an ice cream truck as well!
Drop-ins welcome if space is available.
Family sessions: Families will be able to play E-rated games.
10:30 a.m.- 11:15 a.m.
11:15 a.m. - noon
noon - 12;45 p.m.
Teen (11-18 years old)  sessions: Teens will have access to T- and E-rated games.
1:00 p.m. - 1:45 p.m.
1:45 p.m. - 2:30 p.m.

This program is generously sponsored by the Friends of the Middleboro Public Library with additional support from Rockland Trust.