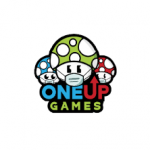 Teens ages 11-18 are invited to join our first-ever, cross-platform Rocket League Tournament on
Thursday, Feb. 11 from 6:00-8:00 p.m.
hosted by One Up Games! Rocket League is a high-powered hybrid of arcade-style soccer and vehicular mayhem. Test your skills and prove you're the best against other teens in several 2v2 elimination rounds.
Please call the Library at 508/946-2470 or email Chris Dargelis to sign up with a teammate for the 2v2 (duo) tournament.  Please give us your name, teammate's name, age, and an email or phone number.  Registration closes at 5:00 p.m. on the day of the event, Thursday th 11th.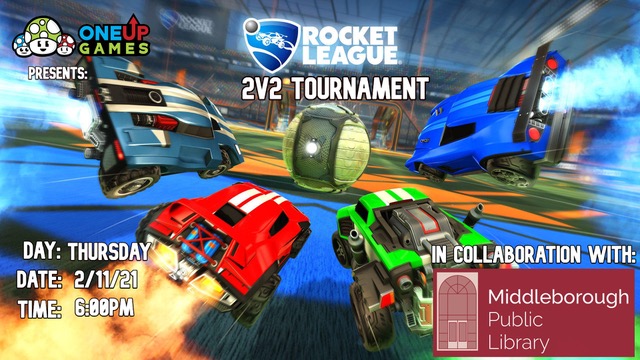 Play on any console from home (PS4, Xbox One, Nintendo Switch, PC) and meet new people.  Players must have:  1.) their own gaming platform 2.) online connection 3.) copy of the game--
download Rocket League for free
. 
Players can chat with other players or the coordinators using Discord (free group-chat platform) or communicate with coordinators using a 
Twitch account
(free).  *Please note that Discord and Twitch are for ages 13+ and any participants 11 and 12 must have parental permission to register.  One Up Games will monitor and supervise the One Up Games Twitch Channel and Discord Server during this event.
One Up Games will run a live broadcast of the tournament, complete with professional commentary. 
Attendees will be sent the Tournament Password 24 hours prior to the event.  All communication with Tournament Organizers and other players will be conducted via a unique Discord Channel that will be added closer to the event.  If you are not on Discord, you can sign up here.  
This program is funded by the Friends of the Middleborough Public Library.
Date - Thursday, February 11th, 2021
Time - 6:00pm EST (queue opens 15 min before start time)
Format - 2v2 Soccar, Single Elim, best of 3, finals best of 5
Platform - PS4, Xbox One, Nintendo Switch, PC
Attendee Cap - 30 teams
Map - DFH Stadium
Region - US-East
Team Settings - Default
Mutator Settings - None
All Cars Allowed
How to Join the Tournament
1. From the Main Menu > Options > Gameplay > make sure "Cross-Platform Play" box is checked
2. Make sure your teammate is in your game lobby
3. 15 minutes before the tournament is scheduled to begin, from the Main Menu > Play > Tournaments > Custom > Join Private
4. Input the provided Name and Password and click JOIN (Players may join only as early as 15 minutes before the event.
Rules
1. No cheating/using hacks
2. No abusing glitches
3. All TO decisions are FINAL
4. Players are encouraged to record or stream the event from their own account. We just ask that you mention us in your description
5. No whining or spamming
6. Have fun