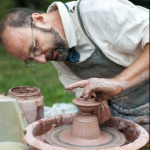 This fun, educational workshop is a celebration of the similarities and differences experienced with many cultures by way of a pot of tea.
The history of teapots will take place on the potter's wheel. Potter Rick Hamelin will introduce us to teapots from the Middle East, the Orient, Europe and the Americas.  Brown Betty teapots, ring teapots, teapots filled from the bottom, and a surprise animal teapot will all be made on Rick's wheel.
We'll be passing from person to person a freshly made pot from the potter's wheel and the chance to feel a dry and wet pot as it rotates on the wheel. 
Each person also will make his/her own pinch pot (cup made from a ball of clay by pinching the clay with the thumb and finger) and the unfired piece will go home with you!
Registration is required and will open up in the spring of 2023.