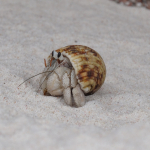 Clams, crabs and critters, oh my, presented by Judy Macioci.
Have you ever wondered what kinds of creatures make their homes on our beaches? Learn about different kinds of mollusks, crabs, and sea worms. Discover what's underfoot on our beaches and how these creatures co-exist with all those sunbathers.  Shells and other items will be on display.
Judy Macioci is a retired Science educator and currently a teacher naturalist who presents natural history programs throughout the South Shore. Using a variety of hands-on activities and a display of nature items, she creates an atmosphere of fun, learning and imagination. 
Thank you to the Friends of the Middleborough Public Library for funding this program.