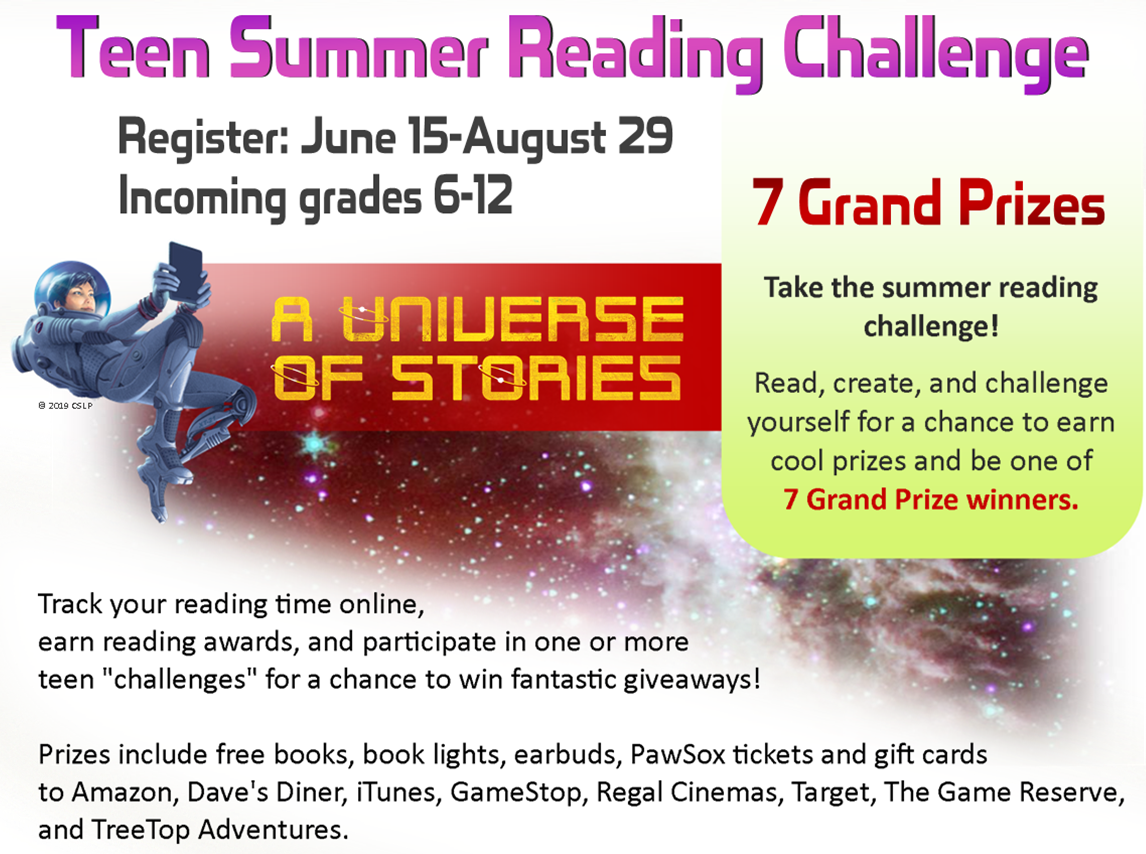 ---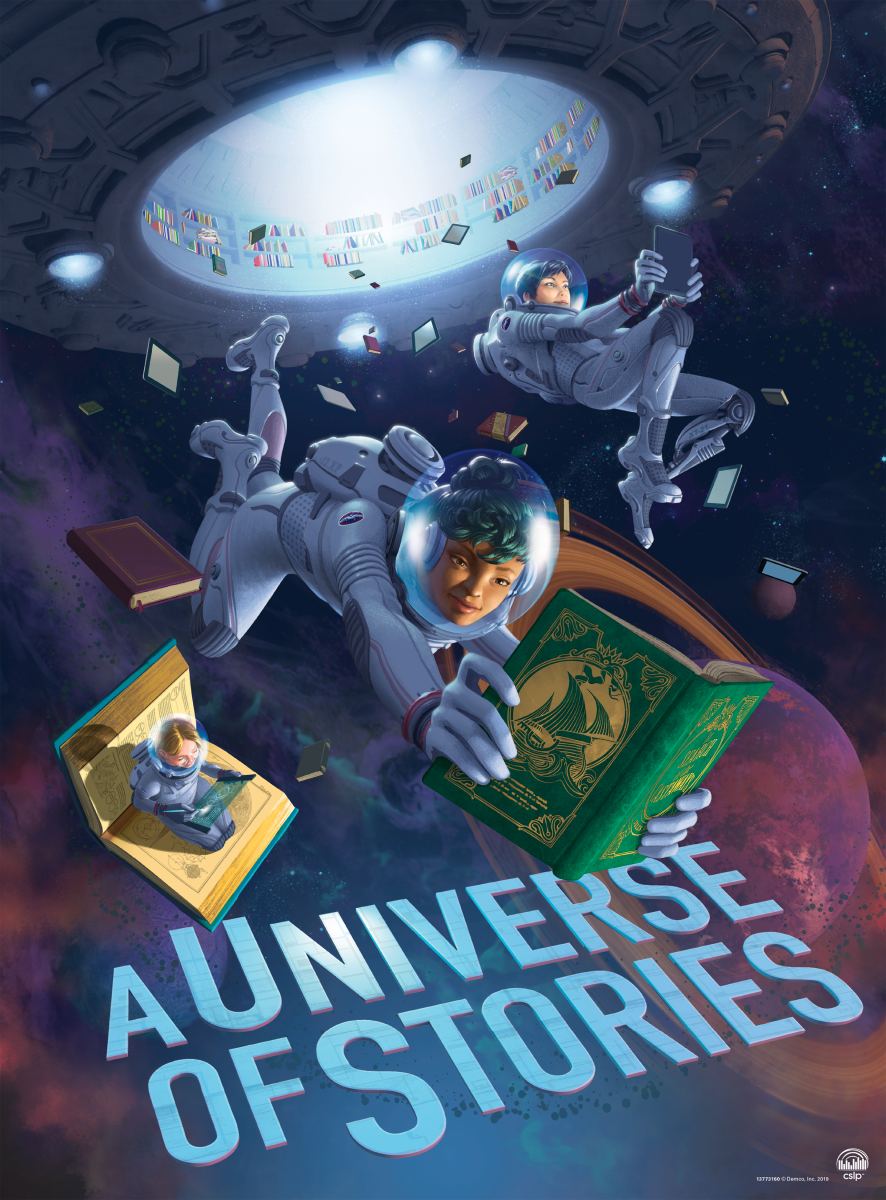 Youth in grades 6-12 can register online or at the library between June 15—August 29.
Click the Teen Summer Reading Sign Up button (starting Jun. 15) to create your account in Wandoo Reader, our online summer reading program.
Read what you like:  books, graphic novels, web pages--listening to audio books counts, too.  Log your reading time in Wandoo Reader little by little or in large chunks of time--whatever works for you.
You'll receive a message when you've won an award!
Youth entering grade 6 have the option to participate in either the children's or teen summer reading program.
Teen Summer Reading Flyer (Printer-friendly PDF)
Wandoo Reader from DEMCO Software is made possible by the Massachusetts Board of Library Commissioners with funding from the Institute of Museum and Library Services and with the assistance of the Massachusetts Library System.
When you complete one of the reading goals below, you will be eligible for a prize.  Prizes can be picked up at the Main Floor desk.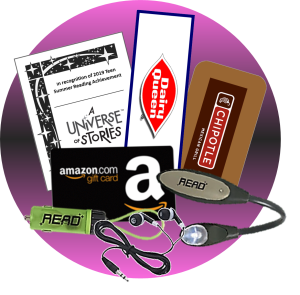 4 hours

 —

Choice of coupon to a local business
8 hours —Challenge Sheet (submit your answer online to enter the Amazon Challenge Raffle) and form for a free ticket to a PawSox game 
10 hours —Choice of a book light, earbuds, or USB car charger

to 1st 50 readers to claim their prize 
12 hours — 1st 

free book from selected titles, 
16 hours

 —

Personalized bookplate in a book from the library collection 
30 hours —

Automatic Entry into Raffle for a $25 Amazon gift card
Thank you to the Friends of the Middleborough Public Library, Chipotle, Dairy Queen, The Pawtucket Red Sox, and TreeTop Adventures for their generous donations!
Pawtucket Red Sox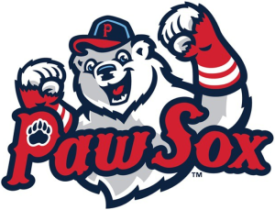 Earn a free ticket to a summer Pawtucket Red Sox game. When you complete 8 hours of reading, you'll receive a PawSox letter that counts as a free ticket to an evening game on Friday, August 16.  Take the form home and decide if you will be purchasing additional tickets for your family.  Send your completed form back to the PawSox and they will either mail your tickets back to you or notify you that they will be waiting at the ball park.  All summer reading participants who attend the game will be honored on the field in a pre-game ceremony and receive a special reading certificate.  
Prize Pack Reading Raffle
You could win one of six Prize Packs!  When you first register for the program, put a check next to each of the Prize Packs you are interested in winning.  You'll be entered in raffle drawings for only those packs that you checked.  If you change your mind later on, log into your account, click on the gear icon in the upper-right corner of the page, and select Edit Profile.  You can edit any of your registration information, including which Prize Packs you would like to win.
The raffle is weighted by the amount of time you read.  Each hour that you log counts as one "chance" in the raffle. The more hours that you log, the greater your chances are of being a Prize Pack winner.
Prize Pack Contents
A Universe of Stories-themed items:
$10 gift certificate to The Game Reserve (game and card store in Middleboro)
1 Free Admission to TreeTop Adventures (rope climbing and zip-line park in Easton)
Drawstring bag

Galaxy phone cinch grip

Aluminum bike bottle

Book light
Each pack also contains one of these items:
$50 Amazon gift card

$25 Dave's Diner gift card

$40 GameStop gift card

$40 iTunes gift card

$30 Regal Cinemas gift card

$40 Target gift card
Thank you to Dave's Diner, The Game Reserve, and TreeTop Adventures for their generous donations!
"Reach for the Stars!" Amazon Challenge
Reach for the stars!  Embark on one or more of the many teen "challenges" created to reflect this year's theme A Universe of Stories.
Participate in mental, physical, and creative activties that demonstrate your stellar skills, generous spirit, and strength of mind and body.  
For every challenge you take part in, you'll earn a raffle chance towards a $50 Amazon gift card.
Challenges
Read, create, compete.  You'll find a complete list of available challenges and their instructions under the Challenges tab on your Wandoo Reader Dashboard.  Challenges range from writing about out-of-this-world reads and exploring space-related activities to getting active and trekking around Middleboro for a 350th anniversary scavenger hunt.
You'll have a chance to share your book reviews, artwork, and other creative pieces throughout the summer.  Add "please post" when given the option, and we'll post your creations and ideas in our Teen Area.
The winner of the Amazon Challenge Raffle will announced on September 5.  One raffle prize per participant.
More Prize Drawings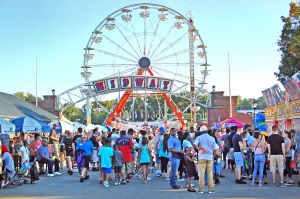 The Big E Prize Drawing
How would you like to try deep-fried oreos, key-lime-pie-on-a-stick, or the famous Big E Cream Puff?    By participating in the summer reading program, you could win two tickets to The Big E (Eastern States Exposition) held in West Springfield, MA from September 13—September 29.  The Big E is an annual fair representing the six New England states.  You can see replicas of the six New England state houses, livestock displays, a petting zoo, a circus, amusement rides, and concerts--and a wide range of delicious food!
To enter the drawing, say "Yes" to the Big E prize drawing when you register for the Teen Summer Reading Challenge.
The Western Massachusetts Library Advocates Board of Directors arranged with the Eastern States Exposition to provide each Massachusetts public library summer reading program with two general admission tickets to be used as incentives.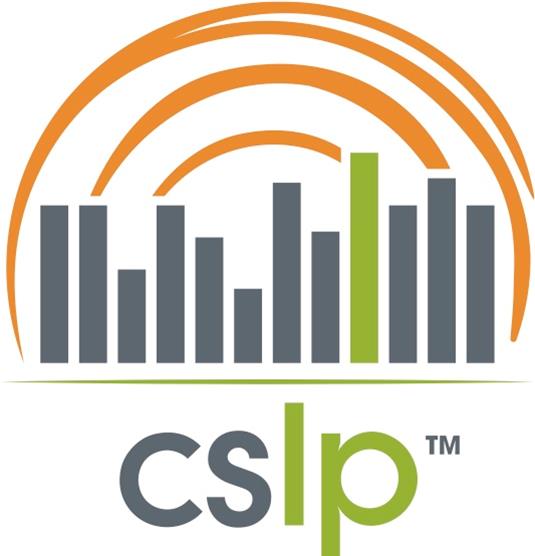 A Universe of Stories is sponsored by the Massachusetts Library System, the Boston Bruins, the Massachusetts Board of Library Commissioners, and supported through the generosity of the Friends of the Middleborough Public Library.