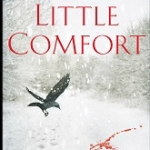 Boston-based mystery author Edwin Hill will speak about his debut book, Little Comfort, and also will discuss what it's like to write a first book and the process of being a first-time writer.  The members of the Library's "Mystery Book Club" group will discuss Little Comfort with Hill, following his program, and all are welcome to stay for that discussion.   Little Comfort was nominated for an Agatha Award for first best novel.

Publishers Weekly gave Little Comfort a starred review noting, "Harvard librarian Hester Thursby, the heroine of Hill's well-crafted, extremely promising debut and series launch, runs a side business locating lost people... An increasingly tense plot and striking characters—in particular, compassionate, conflicted, loving Hester—make this a standout."

Kirkus Reviews wrote, "Hill's debut is a chilling psychological thriller with an unusual heroine and a page-turning storyline."
Look for the release of Hill's second book featuring Hester Thursby, The Missing Ones, on August 27, published by Kensington Books.
Hill has written for the LA Review of Books, The Life Sentence, Publishers Weekly, and Ellery Queen Mystery Magazine. He currently serves as vice president and editorial director for Bedford/St. Martin's, a division of Macmillan. He received his bachelor's degree from Wesleyan University and a master's of fine arts degree from Emerson College.
Hill's program is free and open to all; registration is not required.