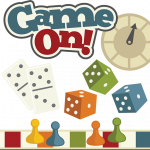 Drop-in for a fun and informal evening of tabletop gaming!
Board game guru Greg Stevens will provide a selection of popular games that you can play with friends or other interested gamers.  Mr. Stevens, an expert in a variety of games, from classic board games like Monopoly to strategy games such as Settler's of Catan, will be available to help you learn a new game and offer advice if you have questions.  Play an old favorite or try something new!
For teens aged 11-18.  No registration required.
Pizza will be served while supplies last.
Greg Stevens, a resident of Middleboro, is a board game enthusiast with over 100 board games in his collection.  He teaches science at South Shore Technical High School. 
This program is generously sponsored by the Friends of the Middleborough Public Library.