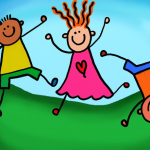 Would you like to meet up with other families who have a child going into Kindergarten this fall?  Is your child nervous or excited?  Are you looking for resources to prepare them for this transition?  Join us for a playgroup every first and third Monday from 1-2 pm May- August. We'll meet up at the library or Pierce Playground.  Check the library's online calendar at www.midlib.org or call 508-946-2470 for each day's location. If you have any questions you can contact Amanda Meyer at ameyer@sailsinc.org.
Siblings are always welcome and no registration is required. Come meet other families getting ready for Kindergarten!
The Public School's Middleborough Family Resource Center will be present during play days for parents who may need help connecting with information and resources.
August 5- Meet at the library
August 19- Moved to library due to heat advisory.