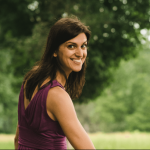 Leslie Murphy's presentation promises to be fun, educational and interactive. She'll show a PowerPoint presentation to help with visuals and welcomes audience questions throughout the program.  You'll learn about acupressure and practice with Murphy so that you can take home something you can do for your health as soon as you leave.
Murphy has had a private acupuncture practice in Middleboro for 10 years and is licensed by the Massachusetts Board of Registration in Medicine.  She is a graduate of the New England School of Acupuncture (NESA) where she was awarded the Tsay Fellowship in 2009 by the Tsay Foundation of Chinese Medicine, given to an outstanding graduate most likely to make a significant contribution to the profession of acupuncture.
Registration is requested, to help us plan, but not required. Call 508/946-2470 or email Adult Services Librarian Libby Fox at lfox@sailsinc.org.