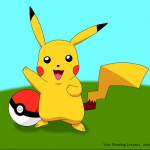 Love Pokemon?  Want to play the card game?  Kids are invited to join Miss Amanda for a Pokemon group.  Bring your own cards or use the ones at the library and help each other learn to play the game.  There will be other Pokemon activities. 
No trading of Pokemon cards during this event.  All ages welcome.  No registration required.
Sponsored by the Friends of the Middleborough Public Library.