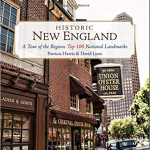 National Historic Landmarks are touchstones of our collective past that still resonate with our present.  The six New England states have nearly 400 such places, however "important" doesn't always mean "interesting."  So authors David Lyon and Patricia Harris teamed up to write Historic New England: A Tour of the Region's Top 100 National Landmarks.  They'll join us to talk about the most intriguing and rewarding landmarks.  In addition to houses and tall ships, the book examines such quirky spots as the country's oldest weather stations, carousels and beaches.

They'll also sell and sign copies of their books.
Harris and Lyon are the authors of more than 30 books on art, food and travel.  They live in Cambridge and can be found online at HungryTravelers.com.
Thanks to the Friends of the Middleborough Public Library for making this program possible.