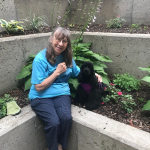 Ms. Marilyn and her credentialed family therapy pets will be running an outdoor session of their reading program at the Library this summer.  Sign your child up for a 20 minute slot including a meet and greet and then reading time.  Children can practice and improve their reading skills in a relaxed and non-judgmental atmosphere.
Call the library at 508-946-2470 or stop by to sign up.  Please only sign up for two sessions at first in order to allow others a chance to participate.  When you register, let us know what book your child will be bringing to read.  Ms. Marilyn will be getting a second copy to follow along and allow for maintaining physical distancing.  If you would like us to help you choose, please ask.
This program will meet outside of the Children's room in the Nature Playspace area.  In the case of inclement weather, the program will be cancelled or moved indoors.
Registration will open on Wednesday, September 15th.