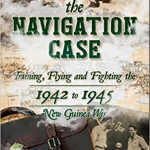 An aged and glossy leather briefcase was discovered when John Happ's family house was cleaned out and sold. They came to learn that his father had meticulously collected his military documents, private letters, and souvenirs, and packed them away in his pilot's navigation case.  From randomly within, a newspaper article tumbled out. It described a massive typhoon in New Guinea causing "horror and tragedy" and resulting in incredible untold loss of men and aircraft. But larger questions remained unanswered: What was his father, or any American, doing in New Guinea, of all places? If America was fighting Japan, why were we fighting in New Guinea?

Aviation as an industry was in its infancy. The sagas of pioneering pilots detail fascinating but deadly cadet training and violent air missions. Happ's narrative flourishes into an incredible story giving the context for all the Pacific war stories from Pearl Harbor, Guadalcanal, Midway island, and Iwo Jima, up to the avoidable catastrophes of Hiroshima and Nagasaki.
Happ will talk about the discovery of his father's papers as well as the startling, yet undocumented, histories found within.  The presentation will be followed by a Q&A and book signing.
Happ is a contributing author to the Journal of the American Revolution, and has written for the World War One website the 75th Artillery C.A.C., and the adventure magazine Atlantic Coastal Kayaker.

A native of the Chicago area and currently a Hingham resident, he speaks five languages. His varied assignments in Germany, Switzerland, the Philippines, and Japan contributed greatly to his research into the origins of the Pacific War resulting in this, his first, book.