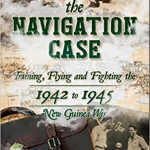 An aged and glossy leather briefcase was discovered when John Happ's family house was cleaned out and sold. They came to learn that his father had meticulously collected his military documents, private letters, and souvenirs, and packed them away in his pilot's navigation case, although he never talked to his family about his service.
Happ will talk about the discovery of his father's papers as well as the startling, yet undocumented, histories found within.  The presentation will be followed by a Q&A and book signing.
Happ is a contributing author to the Journal of the American Revolution, and has written for the World War One website the 75th Artillery C.A.C., and the adventure magazine Atlantic Coastal Kayaker.

A native of the Chicago area and currently a Hingham resident, he speaks five languages. His varied assignments in Germany, Switzerland, the Philippines, and Japan contributed greatly to his research into the origins of the Pacific War resulting in this, his first, book.