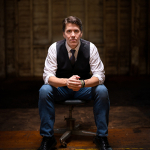 Perennial Halloween favorite Jeff Belanger returns!
Based on Jeff's book, The Nightmare Encyclopedia:Your Darkest Dreams Interpreted, this program dives into our sleep, our dreams, and why we dream, then explores the most profound and memorable of all our dreams: our nightmares.
He'll explain the paranormal in our sleep, what our dreams mean, and the symbols and archetypes of our dream world. The audience will have the chance to get some of their dreams interpreted.
This event is free and open to the public. Seating is limited so registration is required.  Call 508/946-2470 or email lfox@sailsinc.org
Thank you to the Friends of the Middleborough Public Library for sponsoring this program.