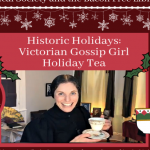 Join Gossip Girl Annie Fields as she spills the beans on her famous literary friends including Charles Dickens, Nathaniel Hawthorne, Oliver Wendell Holmes and Henry Wadsworth Longfellow. Enjoy a lovely afternoon tea in conjunction with this historical rendition. The Holiday Tea is being held in the 1903 portion of the Library. The Peirce Street entrance will be open.
The pre-sale of the event for members of the Friends of the Library continues through September 30, 2022. The sale of tickets to the tea open to all on October 1, 2022.
The cost per person is $45.00. For reservation information, please email events_at_fmpl@aol.com. 
All proceeds will be used to fund programs and special events at the Library.