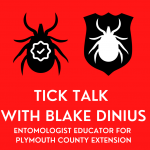 Prime tick time is approaching and everyone hates ticks!  But, New Englanders should be able to enjoy the outdoors without worrying about ticks. The key is awareness and education, not fear, so we've invited Plymouth County Entomologist Educator Blake Dinius to help us understand these insects no one ever wants to find on themselves or their pets.
Many people know something about ticks. But, misinformation may leave them vulnerable; having the correct information is the key to staying safe and healthy.  To that end, he'll provide science-based information and actionable tools you can rely on. He'll also discuss:
* The mysteries behind tick biology and ecology
* The history of tick-borne diseases in America from past to present
* Empowering protection methods
* Anti-tick landscaping

Blake will have plenty of time for questions about ticks, mosquitos and any other pests that are bugging you.

Blake has served as the Plymouth County Extension Entomologist Educator since 2017.  He works to educate the residents of the South Shore on ticks, pests and pollinators and how to live with the wide variety of insect life in our area.