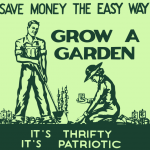 It's the summer of 1949, and Eleanor Roosevelt is hosting a garden picnic at her home in Hyde Park where she's recognizing contributions to the Victory Garden effort duing World War II.
This interactive program will begin outside in our lovely lawn and memorial wall area with a first-person, "up close visit" by Roosevelt, portrayed by Carol Cohen.  Afterwards, we'll move inside for intermission with lemonade, iced tea and cookies, and then we'll learn all about Victory Gardens, past, present and future via an informative, visually enchanced PowerPoint lecture.
All participants will have a chance to win a Victory Garden poster to take home.
See this space in late Spring for more details.