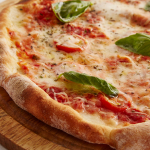 Did you know Halloween is the busiest day of the year for pizzerias?  We're celebrating that fact with something decidely NOT spooky this holiday.

Pizza is the world's most popular food and the varieties are endless! Learn about different types and how they're made, including Massachusetts' own "South Shore Bar Pizza."
Dave Wheeler (of Festive Soups fame) returns and will review pizza recipes, healthier alternatives, and pizza history, including pictures of past and current hidden gems of the pizza world.
Registration is required as seating is limited, and will open in early October.