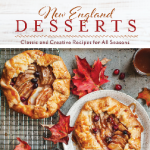 Tammy Donroe Inman, award-winning author of New England Desserts: Classic and Creative Recipes for All Seasons, will discuss her favorite desserts that originated in Massachusetts, the stories behind them, and the pleasures of seasonal baking. Samples will be provided.
Inman is the author of three books, including Wintersweet: Seasonal Desserts to Warm the Home, which was praised by USA Today, the Wall Street Journal, and the Boston Globe. A former editor of Boston magazine, she sharpened her knives in the test kitchen of Cook's Illustrated magazine and behind the scenes of the hit television show America's Test Kitchen. Her work has also been featured in Fine Cooking, Parents, Yankee Magazine, and Cape Cod Life.
Her books will be available for sale for $30.
Space is limited so registration will be required and will open in early May.
Thank you to the Friends of the Middleborough Public Library for funding this program.